Arthunkal
Arthunkal is a beautiful place in the Alapuzha district of Kerala, located in coastal area. Arthunkal is 7 km from Cherthala, 22 km from Alappuzha and around 48 km from Kochi. It is situated between north latitude 90° 05' and 90° 52', east longitude 76° 17' and 76° 48'. The climate is moist and hot (34 °C/22 °C). To its west lies the Arabian Sea with its white sand beach stretching from north to south.

Arthunkal Beach
Arthunkal is a major Christian pilgrim centre and a coastal village in Alappuzha district in Kerala, India. St Andrew's Basilica (St Andrew's Forane Church) Arthunkal is under the Diocese of Alappuzha. The St. Sebastian's church feast is celebrated from 10 to 27 Jan. The procession of the saint in a palanquin, on 20 Jan, by hundreds of devotees from church to beach chapel and back attracts a huge crowd of devotees. During the colorful procession, eagles fly in the sky. More than two lakh pilgrims visit the church during the festival. Sabarimala pilgrims too visit the church during their pilgrimage.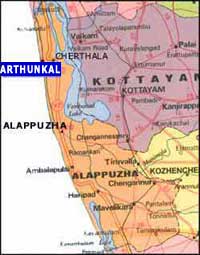 Historians interpret the name Arthunkal differently. The oldest name was Arthikulangara and later the name was modified as Arithikulangal, and Arthunkal. Another version is that the "Siva" temple of the Puliankottu family used to conduct the 'Arattu Utsav every year. The distance from the temple to the sea where Arattu was conducted (about 2 km) came to be known as Arattunkal and later became Arthunkal. The third interpretation put forward by the historian and scholar Shurhamer -(the Mission work of the Jesuits Page 30) is that this place was the capital of the small kingdom 'Moothedathu', called Moothedathunkal, gradually Moothdathunkal became Edathunkal, which in course of time got modified into Arthunkal.
St Francis Assisi Higher Secondary School, Arthunkal has celebrated its centenary in 2004. There is also a Regional Fisheries Technical High School, Teachers Training Institute, Industrial Training Institute, Nursing College, Primary Health Centre, Jose Medical Store and St. Sebastian's Visitation Hospital.
Other institutions in Arthunkal are Post Office, State Bank of India, Arthunkal Co Operative Bank, Police station, Yuva Swapna Retreat centre. Arhtunkal has a good market from which one can purchase a vegetables, variety of fish, prawns, chicken, beef and pork.
Arhtunkal has another church under Diocese of Kochi - St George Church, Arthunkal. It was formed after bifurcating the Alleppey Diocese in 1952. The church is located 400 m north of St Andrew's Basilica. The Holy Mass timing : Daily Mass at 7 am. On Sundays at 6.15 am and 9.30 am. At 4.30 pm on Fridays.